I've done tons of research on toys this past year and below are my favorites!
Qualifications for making it into my list are
1) No BPA, PVC, or Phthalates
2) No history of lead recalls
3) All wood (no MDF) for wooden toys
4) Educational value
5) Longevity (won't be a toy they play with for only a month or two).
These are my humble opinions based on my research (for safety) and using my children as product testers! I have not been compensated by any company or provided with toys to review. Some toys are suggested for different ages than the category I've placed them in. Please use common sense and remove any small objects that could be choking hazards before giving any toy that's labeled "3+" to a younger child.
Birth-12 Months+
Discovery Toys Try-Angle
Twist, turn, whirl and twirl! This portable, foldable hands-on activity center intrigues tiny eyes, ears and fingers. Try-Angle features 5 sides each with different colorful parts to observe, listen to and manipulate. Lay flat for early tummy time; then, as baby grows, fold for side, sit-up or tabletop play. This product stimulates the senses and provides hours of play-time learning!
Discovery Toys Go Go Caterpillar
This is one of Evan's favorites! One gentle press sends this little guy zooming across the floor! Whirling rainbow beads in the wheels cause baby to gleefully chase after his frisky friend. The cause-and-effect action builds baby's early thinking skills, while the rolling motion prompts baby to strengthen his little "scoot around" muscles.
Haba Sticky Bricks
Made of solid beech wood and non-toxic solvent-free dye, these blocks have a "male and female" end so that stacking is easy. A great first stacking toys since it will help build confidence along with fine motor skills.
12Months - 2 Years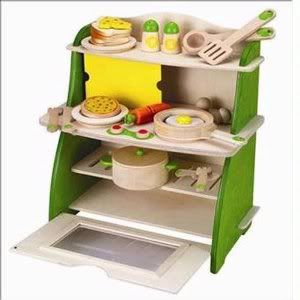 Educo / Hape My First Kitchen
We purchased this kitchen for Autumn when she was a year old. We removed the small pieces of food that were choking hazards as this is rated "3+". It is only 16" high so there is no way a 3 year old would play with it but great for a 1-2 year old! The pieces all fit together like a jig-saw puzzle - no hardware at all - and assembles in 2 minutes. it's made of solid wood that's sanded as smooth as a baby's bottom and all corners are rounded. The paints are food-safe so completely non-toxic if the child should somehow chip some paint off (has not happened in 2 years of play but good to know!).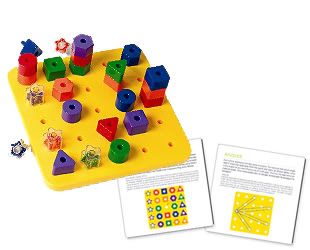 Discovery Toys Giant Pegboard
My sister got this for Autumn when she turned 1. It's a great educational toy that can be used in so many ways... Evan started shaking some of the "shaker pegs" when he was first able to grasp objects. At about 8 months he started honing his fine motor skills and placing the pieces in the board and stacking them. Autumn has done shape sorting, color sorting, sequencing, lacing and some day we'll work on symmetry, angles, and parallelograms. I love toys that last for YEARS. Lifetime guarantee and you can buy replacement parts should your child loose them or dog eat them! I loved this toy so much that I started exploring Discovery Toys as a way to make some extra money (and get my children all their toys which are safe and layered with educational value!).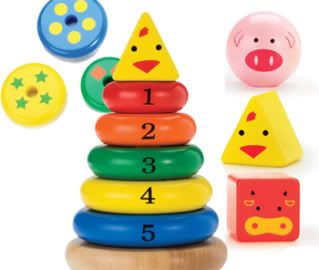 Discovery Toys Story Stacker - Dr. Toy 10 BEST TOYS WINNER
This 9-piece wooden stacking set offers so many Layers of Learning! As your child develops hand-eye coordination, she also learns about colors, numbers, geometric shapes and size relativity. Toddlers enjoy many "ta-da" moments with 3 animal heads, and the ability to stack and restack the pieces in a variety of combinations
3 years and Up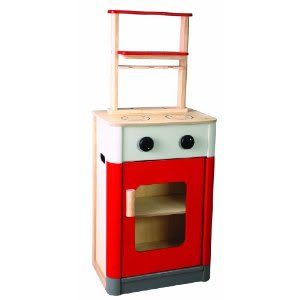 Plan Toys Play Kitchen Set
I have not found any other ALL-WOOD play kitchen sets (Keep in mind that MDF can be marketed as wood!). Plan Toys is committed to toy safety. All PlanToys are made using chemical free, kiln-dried recycled rubberwood and designed with water based non-toxic paints. They also have cute play washing machines, toasters, and microwave ovens.
Holgate Clock
Made in the USA of solid hardwoods and non-toxic finishes, this clock has earned numerous awards. If you live in the Lehigh Valley, Wegmans carries a few Holgate Toys in their organic section. My little guy enjoys their wooden "Wegmans" truck and at $6.99 for a solid wood truck that's made locally...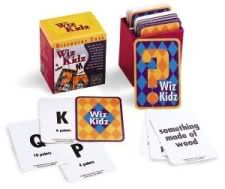 Wiz Kidz
This is one of my favorite games and a best seller! You get a stack of letter cards and a stack of category cards. You take one from each stack (or side of the box if you are playing in the car)... so you may get "M" and "a color"... older children can play with both stacks but a 3-4 year old can use just the letter or the category and still work on critical thinking skills. A great family and travel game! And it's only $12.50.
Toys for Any Age

Crocodile Creek Ball
What child doesn't need a ball? Colorful and fun, this uniquely textured ball is great for indoor and outdoor play. Available in both 5" (great size for a first ball) and 7"
Boon "Rubber" Ducks
You can't have a fun bath without some fun toys. For a while it was hard to find a "rubber ducky" that was safe. Most contain PVC but Boon has come out with four different adorable "odd ducks" that are BPA, PVC, and Phthalate-free. They have no holes in them, so don't have to worry about mildew either! Check out all the adorable
ducky designs
!